Beautiful Brass Craftsmanship. Worth Every Penny.
Maybe you also like(Click the red font to buy)
Click here: Bullet Journal Stencils
Click here: Miniature Paint Brushes Detail Set
Click here: Leather Journal
Matte Brass Stencil Set for your planner or journaling.
So much easier to use this set. The circle stencil has divisions 3,7,8,10,12,24,31,&36.

This listing is for a set of 3 stencils with the felt case only, the bullet journal book is
not included.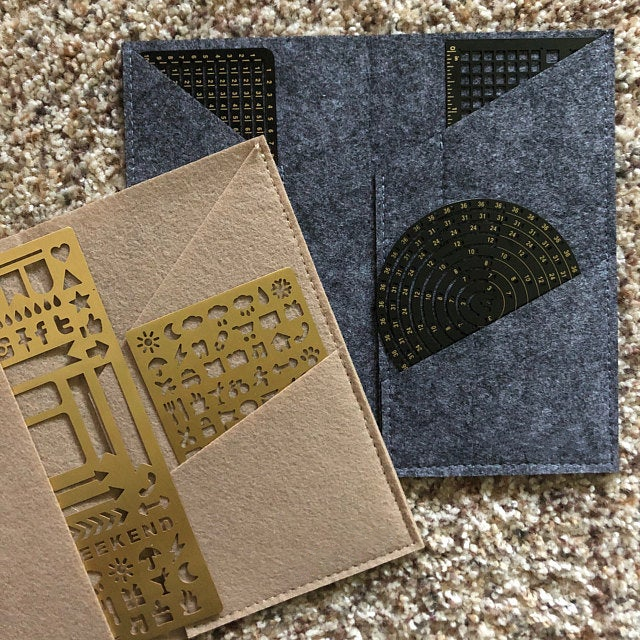 *** Fit 5mm Dots Grid***

Material: ------- 0.4mm Brass
Color: ---------- Matte Black&Matte Gold
Quantity: ------ Set of 3 (Black Felt Folder included)

Size:
Grid Chart / Line Stencil --------- 2 5/16" x 7" (59mm x 179mm)
Checklist, Keys Stencil ----------- 2 1/2" x 7" (64mm x 179mm)
Circle Chart / Circle Stencil ---- 3 1/2" x 3 1/2" (89mm x 89mm)
Black Folder (Folded) -------------- 4 1/8" x 7 1/2" (103mm x 190mm)

Fits: Midori Regular Traveler's Notebook
A5 Organizer/Notebook

Pens Recommended:
Fine Tip Drawing Pens - 0.3mm to 0.6mm (Sakura Pigma Micron 03 - 06)
Rollarball Needle Tip Pens - 0.5mm (Pilot V5)